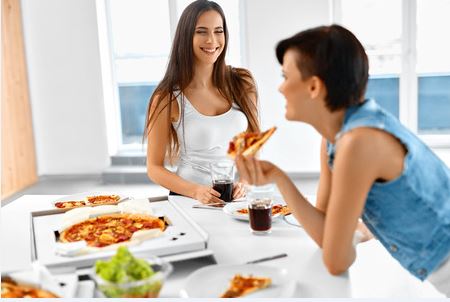 Is There A Right Way To Hold And Eat Your Pizza?
January 28, 2016
We have all had that inner struggle – what will we do with our leftover pizza?
The pizza box staring at you from inside the refrigerator (at least we hope that is where you left it…) waiting to be opened, asking you to enjoy that delicious pizza a second time around.
Some of us poor souls can't always mentally check back into pizza mode, not wanting to eat it the next day or later.
But as conservation specialists, not wanting to waste food or money, we must find new and effective ways to consume this leftover pizza all the while making it still tasty as it was when we first ordered it.
Here Are 5 Leftover Pizza Hacks That Everyone Will Enjoy
1.Pizza Lasagna Or Pizza Cake – Do the words pizza and cake make your water instantly? Us too. Remove the crust of the pizza; lay a few of the leftover slices onto a baking dish with tomato sauce. Add a layer of mozzarella, ricotta, and more sauce then repeat. Put two slices on top face down, then cook your lasagna in the oven for about 30 minutes at 350 degrees and you have your new meal!
2. Pizza Croutons – Want to spice up your salad? Remove the crust of your leftovers, and cut the slices into 1-inch pieces. Put these pieces in 1 tbsp. of olive oil, and then place them onto a baking sheet. Bake them in the oven for about 8 minutes, let them cool and adorn them on your salad. If you're feeling frisky, add them to your favorite soup.
3. Pizza And Eggs – Breakfast of champions. Combine a slice of pizza, two eggs, cheese, tbsp. of milk, and a pinch of salt. Cook on a griddle or skillet, like French toast, until fluffy, add some hot sauce if you'd like and it's a breakfast feast.
4. Pizza Panini – With the use of a Panini press, or pan with a lid, you can create this leftover delectable. With 4 slices of pizza, cover them with mozzarella and prosciutto. Fold over each slice just like a Panini sandwich, and place them into the press. Cook the slices until the cheese is melted and enjoy!
5. Just Want Leftover Pizza? – So after much consideration, you've come to the conclusion that your Bocce's pizza is just too great to do anything else but heat up and eat? We have a trick you can use to keep your leftover pizza just as fresh as it was the day you bought it. Want to microwave your slices without drying out your crust? Add a cup of water when you microwave your slices to avoid the soggy crust. Want to reheat it in on the stove? Place the slice face down into a pan and cook on medium heat until the cheese has gotten a good melt.
At Bocce Club Pizza, we know you will enjoy your pizza enough the first time to try one of these cool leftover pizza hacks. Order your favorite pizza today from one of our great locations or order it online and have it shipped to your home away from Buffalo. If you do try one of these hacks, let us know in the comments below how it was!